Live Nativity Drive Through!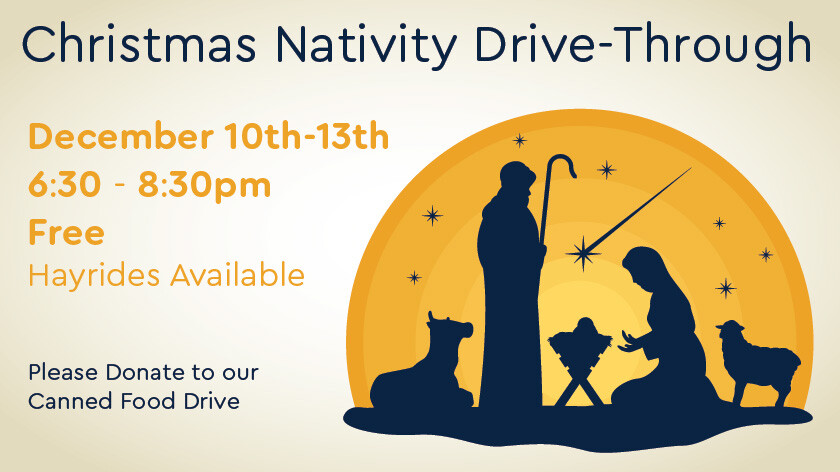 Daily, from 12/10/2018 to 12/13/2018, 6:30 PM - 8:30 PM
We will be celebrating our 14th year of hosting our LIVE Nativity Drive Through. - Nativity Drive Through dates Dec 10-13 (Monday-Thursday) from 6:30pm - 8:30pm. Mark your calendar now for this special event!
- Experience the thrill and excitement of the Birth Story of Jesus over 2000 years ago with our motif of Mary and Joseph's Journey to the Savior. This year will be the 14th year and so we are very excited to celebrating of having over 100,000 people experience our Live Nativity Drive Through.
- SIGN UP for Hayrides that are available. Even if the hayrides are full, we know it will be a great experience to drive through the nativity scenes and then come by the church via Thurman Rd and enjoy hot chocolate and cider with cookies. Then, you can get a photo of you and family or your guests.
- Brice's Creek Bible Church with over 200 tasks for their volunteers want to dazzle this community, ENC and throughout NC.
- 2018 luminaries creates awe and wonder in leading up to the entrance from Brice's Creek Bible Church at Thurman Road and from the Havelock side entrance all the through the Nativity scenes.
For awareness, there is a canned food drive to benefit RCS. This is not a requirement for coming.
-Brice's Creek Bible Church offers this event free to everyone.
Come and be taken back 2000 years. Follow the wise men through six live scenes as they seek their newborn King. Ride through in your car or CLICK THIS LINK TO RESERVE YOUR SPOT ON ONE OF OUR HAYRIDES!