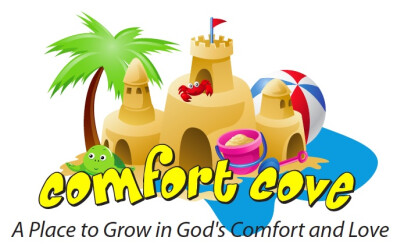 We have a mother's room ready for you in the classrooms behind the stage at the barn. (designed for children under 1 year old)
On Sundays, 1-4 year olds can be checked in to our renovated space behind the stage at the BCBC BARN during the 9:20 and 10:50 a.m service!
---
Come join us in Comfort Cove for our series on the life and ministry of Jesus for 1-4 year-olds.
Parents, follow up at home by Clicking the Button below for our Take Home Activity Pages:
Take Home Sheets


Families will participate together in the sanctuary, then we will dismiss children to the children's area for about 50 minutes of age-appropriate teaching and activities.
---
We ask that parents who are new with us come check-in their children for the first time. As a newcomer, you can do this before the 9:20 a.m. or 10:50 a.m. service or just walk with your child to check-in during service.
Sign in and sign out your child at the table to the right of the 1-4 year old room where you can also pick up a great devotional resource and parent cue for your child each week!
Contact Pastor Phil at 252-626-6555.
---