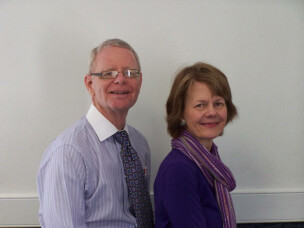 Pastor Barry has been the Senior Pastor at Brice's Creek Bible Church since its inception (1983). He graduated from East Carolina University majoring in Psychology in 1977. He graduated from Dallas Theological Seminary in 1982 with a ThM in Hebrew and Semitic Studies. He has also done a year of post-graduate work at Hebrew University in Jerusalem, Israel. He is the author of one book, Making Your Faith Make A Difference (Victor Press). Pastor Barry has a passion to communicate the relevance of God's Word in the context of day-to-day living.
Phil Hamilton has enjoyed being a part of the Brices Creek Bible Church family since 2007. He has a Master of Theology from Dallas Theological Seminary and a B.A. in Christian Education of Youth from Cedarville University. Pastor Phil is passionate about shepherding young adults, teenagers, and children. Phil and his wife, Kelly, have four children, Ariana, Micah, Ayla and Adalyn.
Pastor Jud is a retired Marine and hails from Oklahoma. He and his family have resided in New Bern and attended Brice's Creek Bible Church since October 2006. He has completed his Bachelor's in Organizational Management and Leadership (2010) and in 2017 graduated with a Master of Arts in Practical Theology at Regent University. His passion is teaming to encourage spiritual growth and facilitating vibrant community. Jud started as the Community Life Pastor for Brice's Creek Bible Church in July, 2012. He and his wife, Tara, have three adult children: Ryan (now married to Abigail), Victoria (serving abroad), and Jaiden (in college pursing nursing).